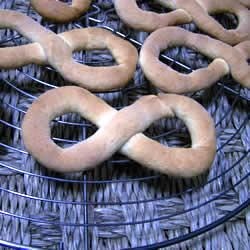 "Crisp cookie of Norwegian origin."
Ingredients
1 1/2 cups white sugar
1 egg
2 1/2 cups sour cream
4 cups all-purpose flour
2 teaspoons baking soda
1/4 teaspoon salt
Directions
Preheat oven to 350 degrees F (175 degrees C). Lightly grease or line baking sheets with parchment paper.
Combine the sugar, beaten egg and sour cream together. Mix in the flour, baking soda and salt. Blend thoroughly.
Divide dough in half and form each half into a long roll. (Note: If your kitchen is warm, keep the half of dough you're not working with in the refrigerator.)
Cut off a narrow slice of dough. Roll lightly with hands on lightly floured board into pencil-like strip about 7 inches long. Form into a figure "8" , and pinch ends together. Place on cookie sheet. Repeat with remaining dough.
Bake at 350 degrees F (175 degrees C) for 12 to 15 minutes.
ALL RIGHTS RESERVED © 2020 Allrecipes.com
Printed From Allrecipes.com 9/30/2020