This ad will not print with your recipe
Tomato-Cornbread Salad with Avocado and Cilantro
This tomato-cornbread salad -- a riff on panzella, the Italian peasant classic designed to revive stale bread -- relies on ripe, juicy tomatoes to moisten and flavor the dry bread. After salting the tomatoes, give them a little time to release their juices.
By USA WEEKEND Pam Anderson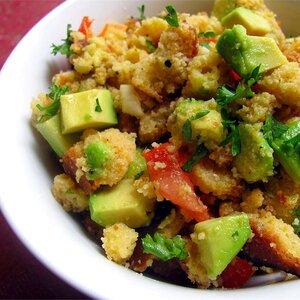 Ingredients
Original recipe yields 10 servings
Tips
Copyright 2006 USA WEEKEND and columnist Pam Anderson. All rights reserved.
Nutrition Facts
Per Serving:
233.5 calories; 4.3 g protein; 22.8 g carbohydrates; 15.1 mg cholesterol; 250.9 mg sodium.
Full Nutrition
This ad will not print with your recipe
Ads will not print with your recipe
Advertisement