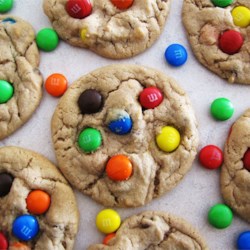 "Cookies using M&Ms(R) candies, any variety. Old recipe-but ALWAYS a favorite!"
Ingredients
1 cup packed brown sugar
1/2 cup white sugar
1 cup shortening
2 eggs
1 1/2 teaspoons vanilla extract
2 1/2 cups all-purpose flour
1 teaspoon baking soda
1 teaspoon salt
1 1/2 cups candy-coated milk chocolate pieces (such as M&M's(R))
Directions
In a large bowl, mix sugar, eggs, shortening, and vanilla thoroughly. Add flour, salt, and baking soda to creamed mixture. Blend well. Add 3/4 cup candies.
Drop dough by teaspoonful onto baking sheet. Slightly push a few candies on top of each dough ball with remaining candies.
Bake at 350 degrees F (175 degrees C) for 9 to 11 minutes.
ALL RIGHTS RESERVED © 2018 Allrecipes.com
Printed From Allrecipes.com 6/20/2018