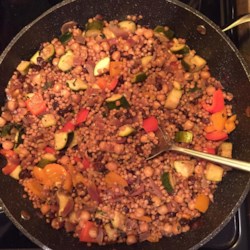 Recipe By:
BenevolentEmpress
"This dish is great served with my Lamb Tagine and Cucumber Raita also on this site."
Ingredients
1 1/4 teaspoons ground cumin
1/2 teaspoon ground ginger
1/4 teaspoon ground cloves
1/8 teaspoon ground cayenne pepper
1/2 teaspoon ground cardamom
1/4 teaspoon ground coriander
1/4 teaspoon ground allspice
1 tablespoon olive oil
1 red onion, cut in half and thinly sliced
1 red, green, or yellow bell pepper, cut into 1" pieces
2 zucchinis, halved lengthwise and cut into 3/4 inch pieces
1/2 cup golden raisins
1 teaspoon kosher salt
grated zest of one orange
1 (14.5 ounce) can low sodium garbanzo beans, rinsed and drained
1 1/2 cups chicken broth
1/2 cup orange juice
1 1/2 cups couscous
3 tablespoons chopped fresh mint
Directions
Place a large, heavy bottomed pot over medium heat. Stir in the cumin, ginger, cloves, cayenne, cardamom, coriander, and allspice; gently toast until fragrant, about 2 to 3 minutes. Stir in oil and onion, cook until softened. Stir in the bell pepper, and zucchini; cook for 5 minutes. Stir in the raisins, salt, zest, and garbanzos.
Pour in the chicken broth and orange juice; turn heat to high and bring to a boil. When the mixture is boiling, stir in the couscous and remove from heat; cover, and let stand 5 minutes. Fluff with a fork, and fold in chopped mint.
ALL RIGHTS RESERVED © 2019 Allrecipes.com
Printed From Allrecipes.com 10/20/2019