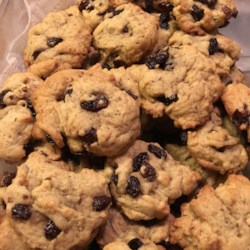 "Juicy raisins are the star in these popular cookies! They're great as a snack with coffee."
Ingredients
2 cups raisins
1 cup water
3 1/2 cups all-purpose flour
1 teaspoon baking powder
1 teaspoon baking soda
1 teaspoon salt
1/2 teaspoon ground cinnamon
1/2 teaspoon ground nutmeg
1 cup shortening
1 3/4 cups white sugar
2 eggs
1 teaspoon vanilla extract
1/2 cup chopped walnuts
Directions
Place water and raisins in a small saucepan, and bring to boil. Boil 3 to 4 minutes. Set aside to cool.
Preheat oven to 375 degrees F (190 degrees C). Grease cookie sheets.
Combine flour, baking powder, baking soda, salt, cinnamon, and nutmeg; set aside.
In a large bowl, cream together shortening and sugar. Beat in eggs and vanilla. Stir in raisins along with the liquid in which they were boiled. Blend in flour mixture, then mix in the walnuts. Drop by tablespoonfuls onto the prepared cookie sheets.
Bake for 12 to 15 minutes in preheated oven, or until firm. Remove from cookie sheets to cool on wire racks.
ALL RIGHTS RESERVED © 2021 Allrecipes.com
Printed From Allrecipes.com 2/24/2021